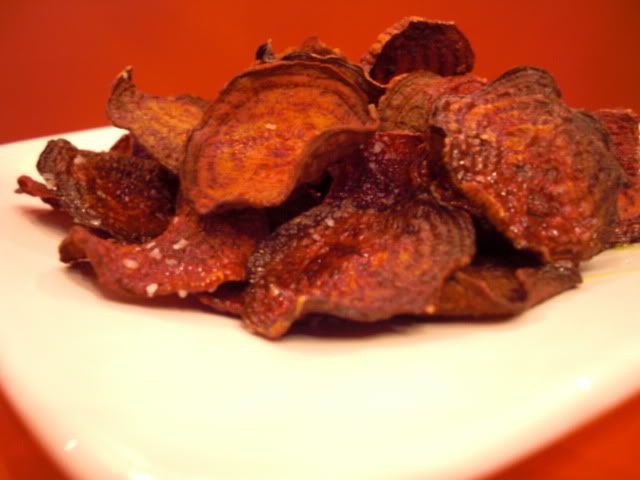 One of my favorite restaurants of all time has let me down this summer. They have consistently been out of their scrumptious Beet Chips with Goat Cheese Dip appetizers every time I have stopped by. This is unacceptable.
So what did I do? I took matters into my own hands and made my own Beet Chips with Goat Cheese Dip and I have to tell you--they are better.
*Note: The Goat Cheese Dip recipe can be made a little more special by adding your favorite herbs and seasonings. I like dried basil and dill.
FRIED BEET CHIPS
Serves 4
INGREDIENTS:
6-8 Bulk beets (the smaller version-easier to cut), scrubbed and peeled
Canola/Peanut oil.

DIRECTIONS:
Slice beets thin.
Fill pot with oil up to 3/4 of an inch. Put on high heat until oil "cracks" when you drip a drop of water into the pot. Then decrease to med-high heat.
Fry beets in small batches to ensure crispiness. ~10 minutes per batch/ until crispy.
Place on plates lined with paper towels to soak up the extra oil. Then transfer to a serving bowl.
SERVE!
~~~~~~~~~~
GOAT CHEESE DIP (PLAIN)
Serves 4

INGREDIENTS:
5-6 oz. fresh goat cheese
2/3 cup low-fat sour cream

DIRECTIONS:
In a bowl/ food processor, beat/mix ingredients until well-combined.
Serve!